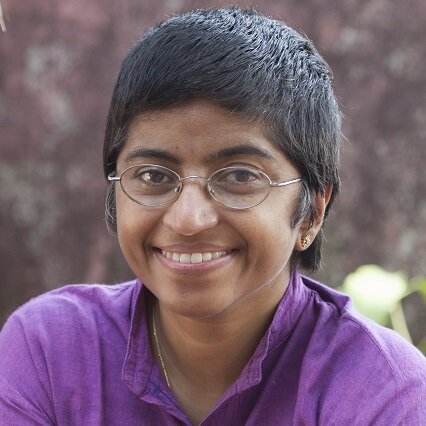 By Markus Williams
Blessed are the peacemakers, blessed are the merciful and blessed are the persecuted for hers is the kingdom of heaven.
Sunitha Krishnan was born a criminal. Like many who have gone before her and those that will come after her she is guilty by the mere fact that she possesses the wrong chromosomes.
She was born in Bangalore India to lower middle class parents. She has three sisters and one brother. Sunitha was born defying gravity. Born disabled she spent the first seven years of her life with her leg in a cast. From about the age of three she developed a compassion for those who were the marginalized in society. Privileged to go to school, Sunitha would come home and teach the kids who did not have the same opportunity. She would make her way to the slums where the children would gather to be taught by her. By the age of 12 she had started her own school and had developed a good reputation. She was first in her class and trumpeted by parents all around as a great role model. She was the apple of everyone's eyes.
At the age of 14, Sunitha got the bright idea that she could adopt a village, so she did, and it would change her life. Her eyes were open to the caste system. There was extreme poverty. Girls were not allowed to learn, the poor could not own land or enter the temple. Simply put, it was humanity at its worst. She started speaking out and teaching girls that they had a right to an education and to protect their bodies. This did not go over well with the upper class; they saw her as a threat. One evening as she was leaving the village going home a gang of eight men decided to teach her a lesson. The ambitious girl who was once the apple of everyone's eye became a social outcast. Her world changed, her life changed. "You're a person of loose character" people would say "You're responsible for what happened to you" . They accused her corrupting the minds of young girls. Her parents became social outcasts as well; they were not welcome at family functions anymore. Sunitha found that no one wanted be around her any longer. She was a victim for being a victim.
After being "taught a lesson" she realized she had found her calling. While still a teenager she decided to dedicate her life to working for victims of sexual violence. She continued with her education which included a Masters in psychiatric social work and a PhD in social work. In 1996 after thousands of prostitutes were displaced they began to plea for a better future for their children. For Sunitha the time was right. Prajwala was born and it has emerged as a leading anti- trafficking organization. The foundation of their mission consists of five pillars: prevention, rehabilitation, reintegration, and advocacy.
To date, Sunitha and her team have rescued more than eight thousand children from sexual slavery. These are children who have been kidnapped, who were given false employment promises, or sold by their parents to pay off debts. Risking their own lives, the team takes children as young as three, out of brothels and the hands of traffickers and brings them to one of 18 schools where the kids can be safe and equipped for a better future. Sadly more than 90% of the children are HIV positive having contracted the disease while in bondage.
Trafficking is a very lucrative business. Those that profit would love to see her silenced. She has been beaten more times than she can count. Death threats have become a part of her everyday existence. But she continues each day sending the message that she is not intimidated. Often, she finds that she is overwhelmed by the amount of pain and suffering that she encounters in her work. Harnessing the power in the pain... this has become the driving force of her life.
She believes that we need a legendary generation that believes in change. As long as there is a world where kids are trafficked there can never be a human symphony.
We celebrate you Sunitha Krishnan for the light of your eternal flame. What was meant to bring you down has instead been a vehicle escorting you beyond orbit. You are defying gravity.

**************
Please welcome Living Legends Honoree Sunitha Krishnan